SMQ750A Telescopic Crawler Crane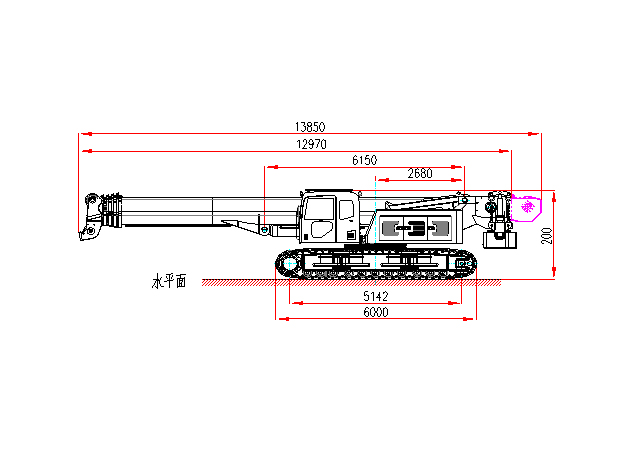 Parameters
Max. Rated Load Weight(t)
75
Luffing Range at Max. Rated Lifting Weight (m)
3
Hoisting Ratio at Rated Load
14
Max. Speed of Single Steel Rope for Boom (m/min)
118
Max. Speed of Single Steel Rope for Jib (m/min)
105
Telescoping Time(rising/falling) (s)
105/66
Luffing Time(extending/contracting) (s)
60/72
Overall Dimensions
Length (m)
13.85
Width (m)
3.5
Height (m)
3.2
Rotation Speed(rpm)
1.8
Ground Contacting Length of Track Shoes × Rail Gauge (mm×mm)
5142×4140
Gradeability
40%
Transmission Type
Hydraulic transmission
Traveling Speed (km/h)
1.1/2.5
Total Weight (counterweight included) (t)
77(18)
Booms & Jib
Boom
Basic boom (m)
11.2
Total length of booms and Jib (m)
42
Jib
Basic Jib (m)
11.2
Installing Angle of Jib (°)
0,20
Jib Hoisting Ratio
1
Features
1. SMQ750A telescopic crawler crane applies double independent hoisting mechanisms. The jib is dismountable, minimizing the turning radius of the whole equipment.
2. It adopts the demountable counterweight which is convenient for transportation. The transportation fee is thereby decreased as well.
3. This construction machinery has a comfortable driving cab. The installing angle of jib can be adjusted by 0~20°. Also, the hoisting machine is equipped with a suspension seat and a air conditioner.